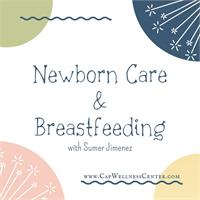 Newborn Care & Breastfeeding
This class was created to help you transition into parenthood with confidence. In this combined class, you will learn the basics of both newborn care and breastfeeding. Both partners are asked to attend so you can be on the same page in how to support each other through this new experience of bringing a baby home for the first time.
You will learn the baby basics, such as:
•Breastfeeding
•Hunger cues
•Cord care
•Circumcision care
•Bathing
•Diapering
•Swaddling
•Baby-wearing
•How to soothe a crying baby
•When to call the doctor
Please bring any and all questions you may have about the first few weeks after bringing baby home!
Class is three hours long and will include videos, discussion, and baby dolls will be used for hands-on practice.
Please feel free to bring dinner to eat during class.
Taught by Sumer Jimenez, postpartum doula
Offered monthly. To register on the phone call the Cap Wellness Center (760) 634-9715