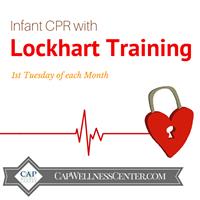 Infant CPR
This is a lay-person non-certification course that adheres to the current ECC guidelines.
The class is great for parents and family members who want to learn and practice CPR for infants and children (up through puberty). This course also includes how to handle choking emergencies.
Lockhart Training course completion certificate available upon request.
Cost is $30 per person or $50 per couple.
PLEASE CALL TO REGISTER MORE THAN 2 PEOPLE
This class is offered on the first Tuesday of each month. Please be sure to check the schedule for changes or cancellations.