Pelvic Physical Therapy Meet our new Pelvic Physical Therapist, Dr. Brittney Ellers! Brittney will be joining us at the Wellness Center on Tuesdays and is currently taking new patients.
Book an Appointment with Brittney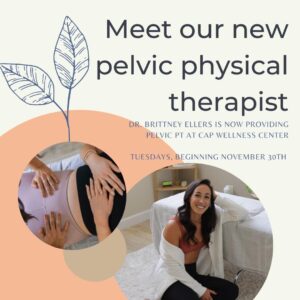 Brittney focuses on comprehensive pelvic care through hands-on and hands-in therapy, paired with education and therapeutic exercise. Her holistic approach sees you for the WHOLE you. Brittney loves working with the perinatal population, and also loves working with any caregiver who is dealing with pelvic pain or issues.
Birth Education Classes
Postpartum Pelvic Program 75 min - $160.00
Join Doctors of Physical Therapy Cary Barberich and Brittney Ellers for this 4 week series specifically designed to help you at 6+ weeks postpartum to reconnect to your pelvic floor, core, and the rest of your body so that you can live life as a caretaker not only pain-free, but capable of returning to the activities you were doing pre-baby - including sex + intimacy!
Pelvic Physical Therapy
Initial Evaluation 60 min - $175.00
Includes a full evaluation of your functional movement and wellbeing. This session can include an external and internal assessment of the female pelvis. The first session sets the foundation for our work together that will transform your life for the better.
Follow Up Session 60 min - $150.00 |  5 Session Package - $700 available for purchase at time of session.
Individualized care including manual therapy, rehabilitative movement, integration of body, mind, and spirit that follows an initial evaluation.