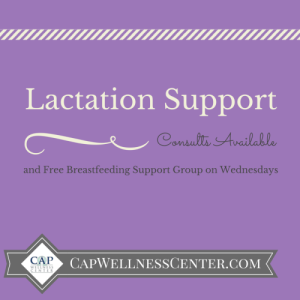 Wednesdays
Lactation support is very important to us at Cap Wellness Center. We offer an out of hospital Newborn Care/Breastfeeding class to educate you on the latest science behind breastfeeding and the relationship that forms between you and your little one.
We also host a FREE weekly support group on Wednesdays run by Peggy Reynolds, IBCLE.
But reading about latch-on basics and trying to translate text and pictures into what to do with your baby at your breast can be difficult. It's much easier to have someone show you early on, before latch-on problems turn into sore nipples or problems with baby not getting enough milk. If your baby has difficulties with latch-on or sucking, or has other health problems that complicate breastfeeding, seeing a lactation consultant can help you resolve these issues before you give up.
Peggy Reynolds, IBCLE offers Lactation Support to first time mothers as well as mothers who may have breastfeeding experience but are having difficulty presently. She is an Internationally Certified Lactation Consultant, International Board of Lactation Consultant Examiners (IBLCE). Having Peggy on staff also provides onsite consults for new parents on Mondays and Wednesdays. Trouble shooting early can prevent long term issues with breastfeeding.
To make an appointment, please contact Peggy Reynolds directly at (760) 809-7081.
Peggy Reynolds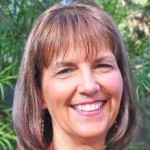 International Board of Lactation Consultant Examiners
Peggy Reynolds has been a healing arts practitioner in the San Diego area for the past 20 years. Peggy is an Internationally Certified Lactation Consultant, International Board of Lactation Consultant Examiners (IBLCE) and a certified parent educator through the International Network for Children and Families. She is a licensed Holistic Health Practitioner (HHP) and Registered Biodynamic Craniosacral Therapist (RCST®), as well as an approved teacher through the Biodynamic Craniosacral Therapy Association of North America. She is also certified in trauma healing as a Somatic Experiencing Practitioner (SEP) with the Somatic Experiencing Trauma Institute.
Peggy has an additional five years of training with Dr. Ray Castellino in the field of pre- and perinatal psychology, as well as training with Maura Sills in core process psychotherapy and relational field.
Peggy is the mother of two grown daughters and is lucky to have four amazing grand children. When she's not teaching or working with private clients, Peggy can usually be found spending time with her family, riding her horse, Rox, or playing with her dogs, Lilly and Gigi. She is now working as a volunteer at the Rising Phoenix Equine Rehabilitation center offering her services in Craniosacral and Somatic Therapies for the horses as well as the Veterans who come for healing.
You can learn more about Peggy at:
www.CenterForStillness.com