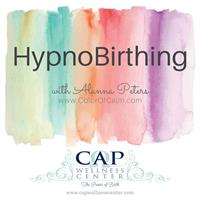 HypnoBirthing
HypnoBirthing is a technique that teaches you breathing, relaxation, visualization and fear recognition. Don't let the name fool you!
You will gain an understanding of how the birthing muscles work in perfect harmony–as they were designed to–when your body is sufficiently relaxed and you trust birth. You will learn how to achieve this kind of relaxation, free of the resistance that fear creates, and you will learn to use your natural birthing instincts for a calm, serene and comfortable birth.
When you have your baby with HypnoBirthing, you will not be in a trance or asleep. What you will experience is similar to the daydreaming, or focusing, that occurs when you are engrossed in a book or a movie or staring into a fire.
You will be conversant and in good spirits–totally relaxed, but fully in control. Awake throughout, you will be aware of your body's surges and your baby's progress; but because you will have trained yourself to reach complete relaxation, you will be able to determine the degree and the manner in which you will feel the surges. In this calm state, your body's natural relaxant, endorphins, replaces the stress hormones that constrict and cause pain.
Trained HypnoBirthing educators are successful at teaching women and their birthing companions to trust birth and release all fear: allowing you and your partner to have an amazing birth experience.
Upcoming Class Schedule:
Sat November 10, 2018
Thu, Jan 10, 2019
Sat, Jan 12, 2019
Thu, Feb 21, 2019
Sat, Mar 30, 2019
Thu, Apr 18, 2019
Classes do fill up fast so please call our office at
760-634-9715 to register.