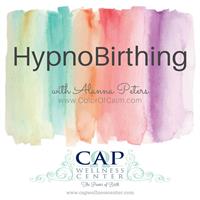 HypnoBirthing
FIVE WEEK SERIES
This prenatal birth education class will teach you and your birth partner visualization and breathing techniques and important fear release methods that will help make for a more comfortable, smooth birth experience.
You will also learn what birth looks and sounds like so you will know what to expect and your birth partner will learn hands-on comfort measures they can provide to assist you in the labor and delivery process.
You will gain an understanding of how the birthing muscles work in perfect harmony–as they were designed to–when your body is sufficiently relaxed and you trust birth. You will learn how to achieve this kind of relaxation, free of the resistance that fear creates, and you will learn to use your natural birthing instincts for a calm, serene and comfortable birth.
Upcoming Class Schedule:
Sat November 10, 2018
Thu, Jan 10, 2019
Sat, Jan 12, 2019
Thu, Feb 21, 2019
Sat, Mar 30, 2019
Thu, Apr 18, 2019
Classes do fill up fast so please call our office at
760-634-9715 to register.